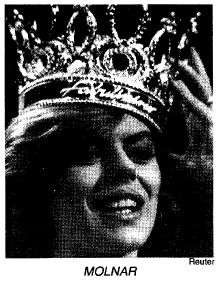 BUDAPEST, Hungary (UPI) — Miss Hungary, a 17-year-old who recently said she was having difficulty coping with the attention surrounding the title, killed herself by taking a drug overdose, a doctor said Friday. Csilla Molnar was found unconscious Thursday in her parents' home at the popular resort area of Fonyod on Lake Balaton about 60 miles southwest of Budapest. She was taken to a hospital but could not be revived.

Molnar died of an overdose of Lidocain, which stimulates the heart, the attending physician said. "The young girl became conscious for only a few seconds during treat- ment," Dr. Istvan Schneider said. "But even then I could feel that she did not want our help. She wanted to die."
Her father went into shock and was hospitalized upon learning of his daughter's death. Lidocain can be obtained by prescription only and her father was known to have a heart condition.

After Molnar won the title last October, rumors circulated that her father had contacts on the judges panel. The rumors were never substantiated. A Budapest radio station reported that during a recent interview with Molnar, she complained about the amount of attention that had been showered on her since the contest. "I don't know whether I can bear this," she said in the interview. "Everybody is harassing me. They ask: Where and from whom did you get those beautiful clothes? Who helped you? Do you or your father have special connections with the jury? And so on."
The suicide shocked her friends. "I think that the fame that came (to her) first was poison. Then came the actual poison." said Janos Baktai, a school friend in Fonyod. "If one receives such great luck then many people become envious," said Magdolna Torok, 18. "I heard people say often that Csilla was not really so beautiful."
Beauty contests are not widespread in the socialist countries of Eastern Europe, where they are criticized by some as a manifestation of capitalism. The Miss Hungary competition is not connected to the Miss Universe pageant or any other world contest, and there were no plans for Molnar to compete in other contests. When Molnar was named Miss Hungary in October 1985, a columnist in Budapest warned of problems to come: "Csilla and her partners are not ripe beauties. They certainly do not represent eroticism. But they are very tired. They have heavy weights on both their bodies and souls."